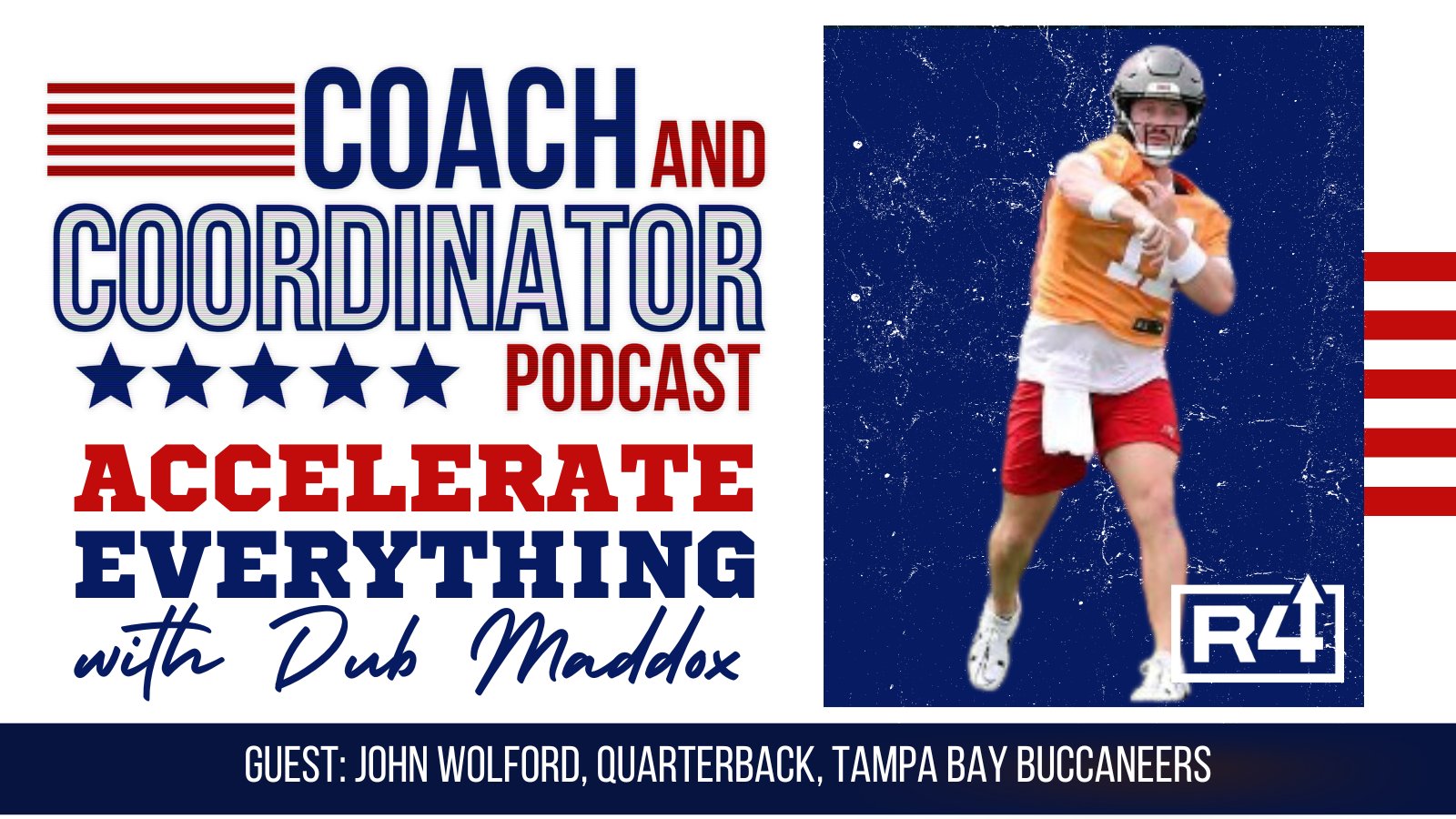 In this installment from our "Accelerate Everything" series, John Wolford shares his tips for accelerating the QB thought process, how the best coaches set quarterbacks up for success, and his hacks for learning complex play calls.
Listen On:
John Wolford is a quarterback for the Tampa Bay Buccaneers. He spent the 2019-2022 seasons with the Los Angeles Rams, winning a Super Bowl ring along the way, while learning from Sean McVay and Kevin O'Connell, two of the best play callers and quarterback coaches in the NFL.
In this episode, Wolford teaches us common traits possessed by elite offensive coaches, accelerators for learning and performing the duties of the quarterback, and his favorite concepts for beating all types of coverages.
Follow John Wolford on Twitter @johnwolford_9.
Follow guest host Dub Maddox on Twitter @CoachDubMaddox.
In our "Accelerate Everything" series, guest host Dub Maddox, offensive coordinator at Union High School (OK), talks with experts inside and outside of football to illuminate those things that put them at the top of their fields, while considering those lessons within a coaching framework.
Show Notes:
>Coaches That Accelerated the Ability to Play QB
>Techniques and Tactics Learned By Going Against the Rams' #1 Defense Every Day
>Fangio Defenses in the NFL
>Looking for Tells to Know Where to Go with the Ball
>Having a Wide View: Strategies to See the Bigger Picture
>What McVay and O'Connell Did to Help Accelerate Reads
>Favorite Concepts for Attacking Tampa 2
>McVay as a Play Caller and Communication in the Helmet
>Thoughts on Nomenclature and Length of Play Call
>Can Calls
>Protecting the Edge on Naked
>Keeper Can Keeper
>Process for Distilling Long Calls Under Pressure
>Using Voice Memos with Faster Playback Speed
>Watching Film: Where Eyes Start
>Writing Things Down for Better Recall
>Call to Protect the Wide Zone Run Game
>Building the Relationship with the Key Receiver
>Learning from Dave Canales
>Favorite Passing Concept
>What John Would Make a Priority If He Was Coaching QBs
For more information on Dub Maddox's R4 System, visit R4FootballSystem.com.
More Accelerate Everything Episodes:
Dante Bartee, Analyst, University of Oregon
Brian Eayrs, Head Research Analyst, Seattle Seahawks
Will Hewlett, Quarterback Trainer, High School QB Coach
JT O'Sullivan, Former NFL QB, Creator of The QB School
---
SUBSCRIBE: