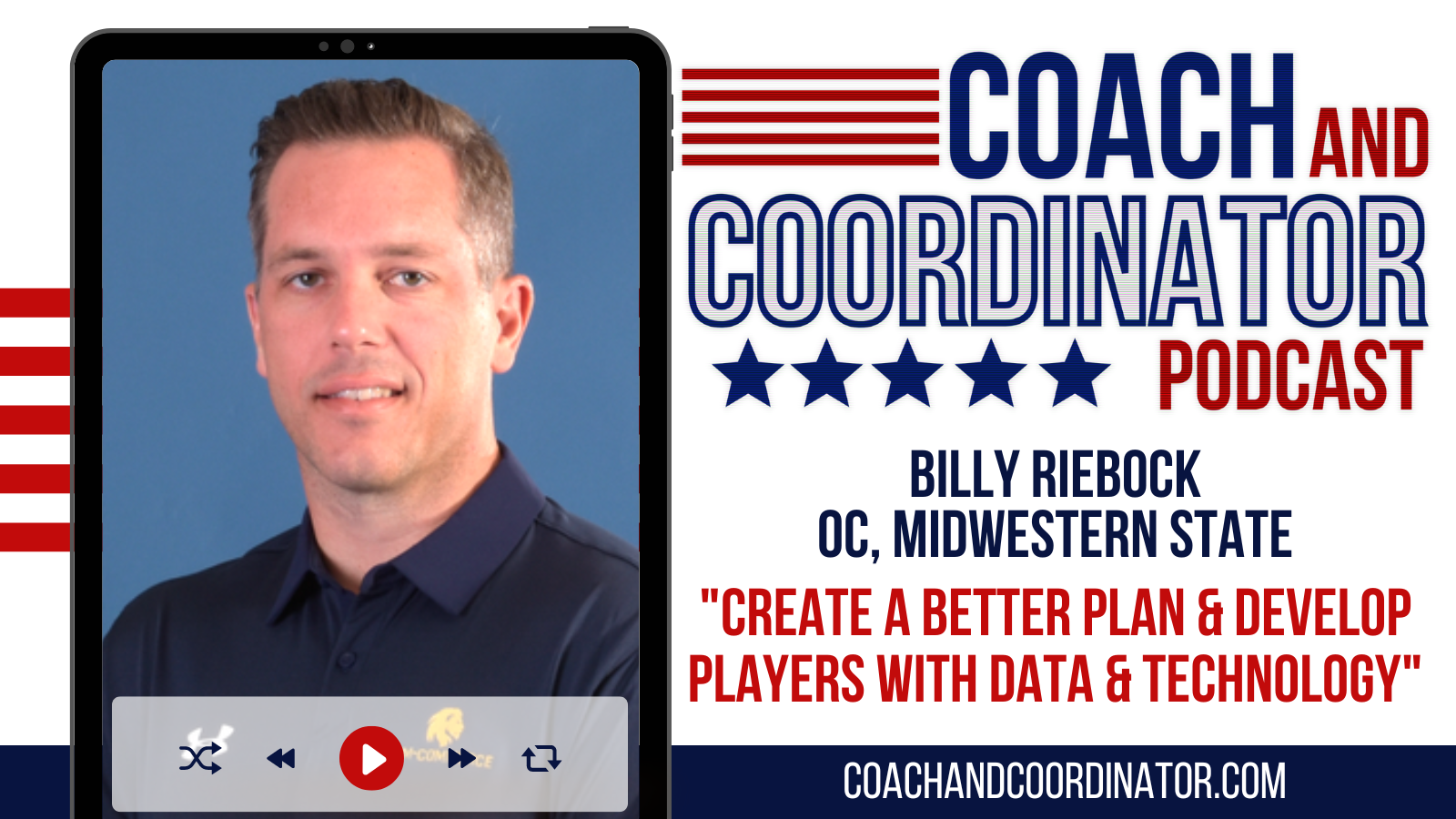 In this episode, Billy Riebock shares how he utilizes data in the offseason to help determine what the offense will look like for the coming season. He also goes into detail about how Midwestern State utilizes technology to create a better workflow and better teaching tools for their players.
Billy Riebock is the offensive coordinator at Midwestern State in Wichita Falls, Texas. He's coached at all levels of college football, gaining valuable experience from the coaches he's worked with all along the way.
Coach Riebock has also served in the offensive coordinator role previously at Texas A&M-Commerce, Bridgewater College, and Quincy University, his alma mater. His résumé also features FBS experience at Rice, Ball State, and Indiana, as well as FCS experience at Elon University.
In this episode, Riebock delves into his approach to improving his offense in the offseason, as well as how he deploys technology to create an efficient workflow and increase reps up and down the roster during the season.
Follow Billy Riebock on Twitter @RiebockBilly.
Show Notes:
>A Framework for Preparing Every Position
>How a Coach's Workflow and Process Evolve
>Find People That Will Mentor You
>Using Data and Analytics to Come Up with a Simple Plan
>Understanding How Much You Need in a Game Plan
>A System Must Handle All Situations, or It's Not Complete
>Using Numbers to Dictate What You Can Do
>Preparing and Adjusting in Spring
>Identifying and Dealing with Trends
>Free Technology to Prepare Players in the Classroom
>Interactive Quizzes
>Go Army Edge Technology to Work Through and Understand Concepts
>A More Efficient Way to Walk Through
>Eliminating Uncertainty with Interactive Game Plan a Day Ahead of Practice
>Using Technology for Blitz Pick-Up with Offensive Line and Running Backs
>How the Technology Fosters Better Discussions
>Stealing Time with the Technology
>What the Weekly Plan with Technology Looks Like
Related Episode:
---
The Winning Edge – Takeaways and Ideas for Implementation:
1) Know How Much Offense You Need
Coach Riebock's story about asking Coach Skrosky why they don't change up plays in a certain situation made me recall something I have learned in the past – know how much you need by utilizing and studying the data of your past seasons. I highly recommend Brian Billick's book, Developing an Offensive Game Plan. In the book, he lays out step-by-step what the process is for determining how much offense you need.
Coach Billick writes, "Regardless of what type of team you coach (high school, college, or youth), you must think on three levels: yearly, weekly, and game day. Each level has very set parameters as to how much offense will actually be run in any given segment. The more you can overlap the amount of total offense you can carry vs. the amount that can be effectively practiced, the more effective the offense you actually run on game day will be."
2) Constantly Evolve By Examining How You Are Teaching and Coaching
Ask yourself if you have the best methods, best tools, best technology to prepare your players. I heard a quote from retired Army General Eric Shinseki, who said, "If you don't like change, you're going to like irrelevance even less."
That's where we are in our profession as the game becomes more and more dynamic, and we must find ways to best develop our players.
3) Use an "Expert" System to Implement New Technology and Workflows
It reminds me of an African proverb, "If you want to go fast, go alone. If you want to go far, go together." This approach gives you the benefits of moving quickly and also going far with new technology.
That expert should be the one to learn it and then efficiently teach it and help the others on the staff troubleshoot it. In that way, you will more efficiently implement new tools into your workflow.
---
SUBSCRIBE: