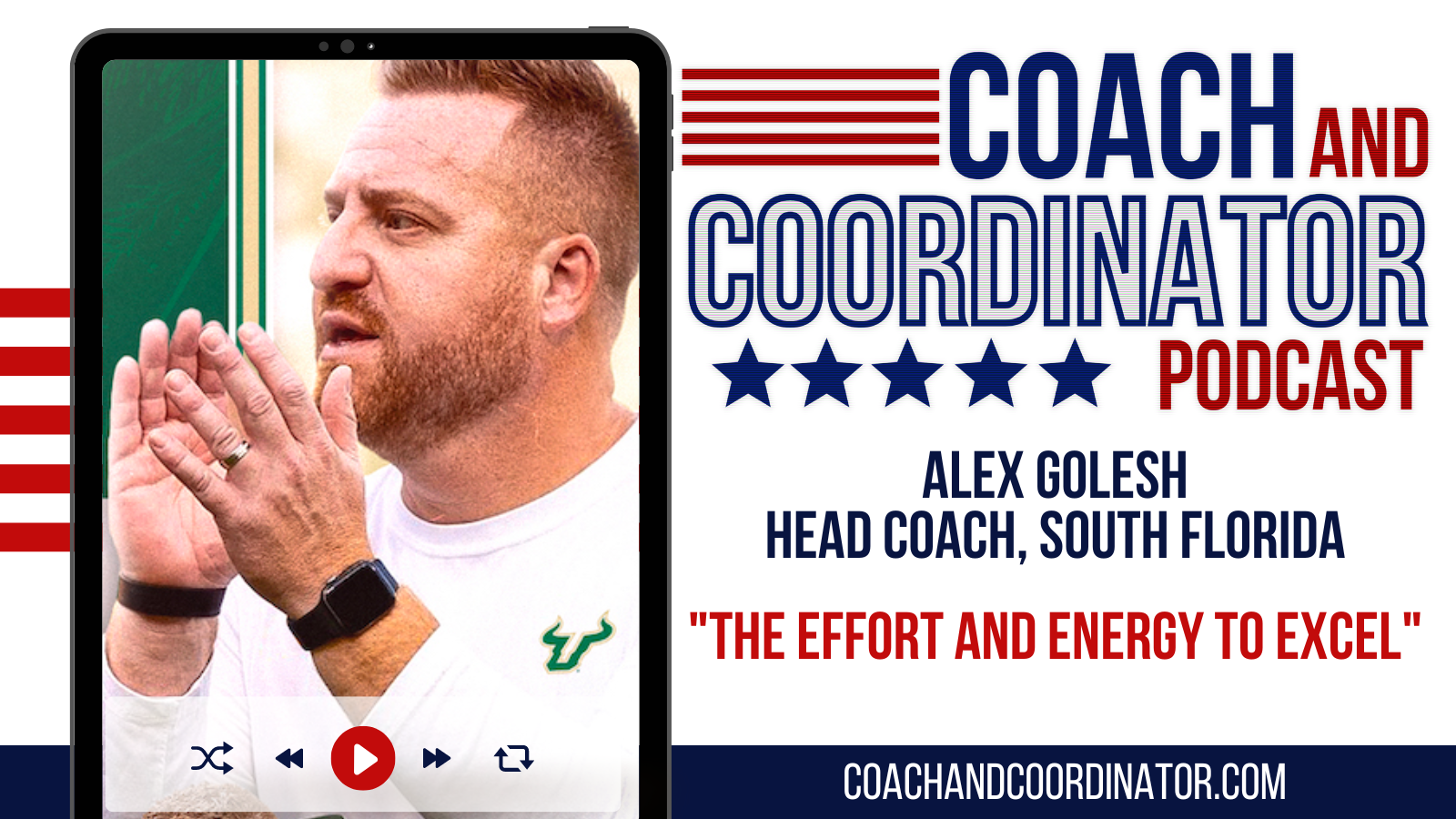 In this episode from our archives, we revisit a 2016 conversation with Alex Golesh, who at the time was an assistant coach at Iowa State. Now the Head Coach at South Florida, Coach Golesh's journey is a blueprint for how to rise in the coaching profession.
Alex Golesh is the new Head Coach at South Florida. In 2022, he was the Offensive Coordinator of the University of Tennessee, leading the Vols offense to a #1 ranking in total offense with 538 yards per game and scoring offense with 47 points per game. He has taken his career from student assistant at Ohio State all the way to becoming an FBS head coach. This episode is from our archives, first released in the early days of the podcast in 2016 while Coach Golesh was the Recruiting Coordinator and Tight Ends Coach at Iowa State. It showcases the philosophy, hard work, and dedication Coach Golesh has put into developing himself and his players. And it is a detailed plan of action for any young coach with ambitions to climb the coaching ranks.
Follow Alex Golesh on Twitter @CoachGolesh.
Show Notes:
(1:36) Coach Golesh's First Meeting at South Florida
>A Partnership
>A Positive, Demanding Environment
>No Shortcuts
(4:16) Coaching Origins
>Wanted to Teach
>Enjoyed Being Around Young People
>Fell in Love with Recruiting
>Westerville Central High School (OH)
>Ohio State Student Coach
>Graduate Assistant (Northern Illinois and Oklahoma State)
>First Full-Time Position at Toledo
(7:12) Recruiting
>Always Had a Passion to Meet People
>Success Starts with Being Organized
>Make the Head Coach's Job Easier
>Influences as a Recruiter
>Find a Way to Be Different
>It Comes Down to Relationships at All Levels
>The Importance of Culture When Recruiting
(16:26) Using the Tight End
>The Ability to Be Multiple
>Create Mismatches
>Find and Develop the Tight End
>Look for Traits: Length, Size, Catch Radius, Ball Skills, Physicality in the Run Game
>Stress the Defense with the Tight End
(22:26) Teaching the Game
>Show It, Walkthrough It, Perform It
>It Starts with Fundamentals
>Teach the Big Picture
(25:34) Tight End Drill Work
>Stance and Start
>Point of Emphasis for the Day
>QB and WR Work
>Run Game with OL
>Finish Drill
(27:38) Lessons and Learnings
>Overzealous
>Quality Over Quantity
>Slow Down, Be Thorough
>Jim Tressel Advice
>Swing Your Sword by Mike Leach
>Matt Campbell Quick Study: Building and Managing a Staff
(35:13) Creating Balance in Life
>Be a Great Father and Husband
>Involve Families with Work
(36:26) Football Challenges
>Outside Influences
>Third-Party Interests
>Social Media
>Tell Players the Truth
Coaches Mentioned in This Episode:
Matt Campbell
Joe Novak
Jim Tressel
Mike Leach
Recent Coach and Coordinator Episodes:
The Mushroom Society with Bob Wylie: The Pro Mindset, Featuring Craig Domann
Beat Burnout and Enhance Your Performance as a Coach, Featuring Dr. Erik Korem
OC Office Hour with Jeff Mullen: Creating Explosive Plays
---
SUBSCRIBE: